First posted to: https://surehopecounseling.com/the-grief-process/
"Grief turns out to be not a state but a process. Grief is like a winding road where any bend may reveal a totally new landscape." C.S. Lewis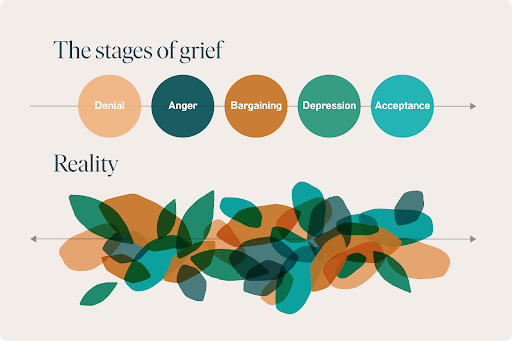 Grief is a word that many of us are intimately acquainted with because we live in this world, and many of us have experienced loss in some way, shape, or form. Grief is a natural response to loss and a feeling of emotional suffering often associated with the death of a loved one but can occur with any loss, such as divorce/relationship breakup, loss of health, loss of a job, a miscarriage, life changes (i.e., retirement, graduating high school). What can be frustrating and/or challenging about grief is that it is not linear and there is no endpoint, meaning we don't "recover" or "move on" from grief. Rather, we integrate and knit these losses into our life experiences and adjust accordingly as we move forward with the grief.
Grieving is a highly individual experience, so there's no right or wrong way to grieve. How one grieves depends on various factors such as one's personality and coping style, life experiences, faith, and significance of the loss. Culture often places expectations that one should be moving through the grief process quickly and also resuming back into the "normal" rhythm and routines of life swiftly. But, the reality is that these waves of grief often vary in intensity and frequency throughout one's journey and require one to revisit the memories, pain and fear associated with the event.
Due to its nonlinear nature, grief can trigger many different and unexpected emotions throughout the course of one's life. Loss is personal and while culture and our loved ones do not always know what to do with our pain and aching wounds, God certainly does. He invites us all into an intimate relationship where we are encouraged to be honest with our emotions, cast our burdens and concerns onto Him (Psalm 55:22), and find rest and hope in the Almighty (Psalm 62:1-2).
"The Lord is near to the brokenhearted and saves the crushed in spirit" (Psalm 34:18).
The Lord is not overwhelmed or burdened by our pain and intimately knows, first hand, loss and its effect. He is no stranger to long suffering and grief. As we wade through the many trials, tribulations and losses on this side of eternity we are certainly not immune from the new realities that grief and loss present in our lives. C.S. Lewis compares death/the loss of a loved one to amputation, and he understands the forever change it brings: "Getting over it so soon? But the words are ambiguous. To say the patient is getting over it after an operation for appendicitis is one thing; after he's had his leg off it is quite another." With time, one often accepts the new reality, yet it still requires learning how to walk again and to recognize that the walk may look and feel different.
This pilgrimage is not meant to be done alone and often the pain of grief can cause us to want to withdraw from others and retreat. God's desire for us is that His love would mightily heal us from the inside out and also be a green pasture for others who are broken hearted and yearning for comfort in their sufferings: "[God] who comforts us in all our affliction, so that we may be able to comfort those who are in any affliction, with the comfort with which we ourselves are comforted by God." Just as He offers us rest for our souls and comfort for the mourning, He delights when His children help carry one another's burdens and reflect His merciful and compassionate love.
As challenging as it may be to walk through this valley of shadow of death, we are not alone nor expected by our Father to have the "right" feelings to process our grief in the "right" time frame. We can take comfort even amid frustration, fear, sorrow and anguish for our loving Father "heals the brokenhearted and binds up their wounds" (Psalm 147:3) and when we do not have the words but call out to Him, His Spirit "intercedes for us with groanings too deep for words" (Romans 8:26).
-Carlyn Wood – learn more about working with Carlyn here!